The Top Skincare Trends And Skincare Ingredients For 2023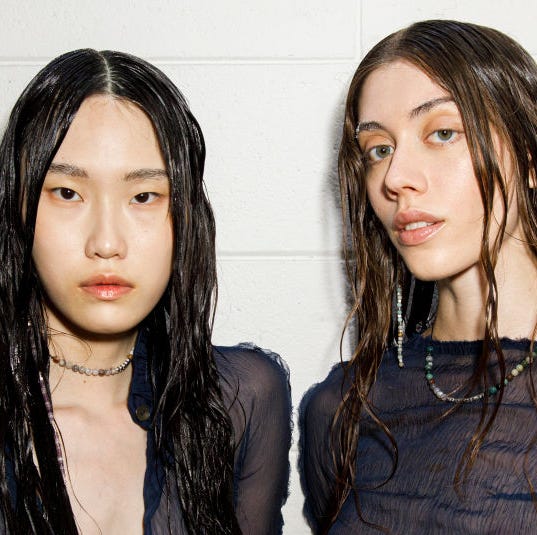 Rosdiana CiaravoloGetty Images
Believe it or not, the year is almost over. Every year in January, while other people are off promising to hit the gym or consume fewer glasses of red wine, I make skincare resolutions. Do I swear to always double cleanse? To begin reapplying my favorite sunscreen every two hours as recommended? Well, that all depends on what the experts recommend. When it comes to skincare, there is always something new around the corner to become obsessed with. Whether it's a new Tik Tok-viral beauty tip, or you just want to keep up with the winter trends, check out our 2023 skincare trend report that'll give you a glimpse of trends you're about to see everywhere–and to decide which ones to leave behind. "I am over slugging," says dermatologist Dr. Karan Lal. "Celebrity skincare has to stop." Here, read about the five skincare trends you're going to see everywhere in 2023.
Advertisement – Continue Reading Below
The nine-step skincare routine may not survive into 2023. "We are heading into a recession," says Dr. Karan Lal. "Minimalism is in. The nine-step regimen is now out of favor. With the introduction of skin-cycling, I suspect people will focus on 2-4 skincare products." Online, there's more interest in tried-and-true drugstore favorites, from trusted skincare brands like La Roche-Posay and CeraVe.
CeraVe PM Facial Moisturizing Lotion, $14, amazon.com
La Roche-Posay Toleriane Hydrating Gentle Face Cleanser, $16, amazon.com
"Products that are gentle on the skin barrier will be trending for 2023," says Dr. Marisa Garshick. "The skin barrier is important to maintain the health of the skin, and when it is disrupted, it can cause or exacerbate other skin conditions such as eczema, psoriasis, rosacea, and acne." Rather than over-exfoliating the skin with harsh actives, be mindful of your skin's overall health.
Biba Los Angeles Cream Barrier, $95, bibalosangeles.com
Dieux Deliverance Trinity Serum, $69, dieux.com
3
Retinol, Retinol, Retinol
"I suspect we are going into the year of retinol and retinoid derivatives," says Dr. Lal. While we all know the benefits of using a retinol, 2023 might come with some creative way to use it. "Bakuchiol continues to be of interest and is being incorporated into more products as a natural retinol alternative," adds Dr. Garshick.
BYOMA Moisturizing Rich Cream, $16, ulta.com
Biossance Squalane + Retinol Night Serum, $72, biossance.com
4
New Favorite Ingredients
From familiar favorites to newly trending, there are many skincare ingredients to keep your eye on. Dr. Garshick believes niacinamide will be everywhere in 2023, while Dr. Lal imagines a return to hyaluronic acid and ceramides. "Glutathione is going to be the new Tranexamic acid," says Dr. Lal. "I suspect we will see more glutathione-based skincare for skin brightening."
Paula's Choice RESIST Super Antioxidant Concentrate Serum, $43, dermstore.com
The Ordinary Niacinamide 10% + Zinc 1% Oil Control Serum, $7, sephora.com
The beauty industry will continue to find creative and innovative ways to become more sustainable. "From packaging to refillable products, skincare brands are placing an emphasis on keeping their manufacturing and production environmentally friendly and sustainable for the future," says Garshick. Hopefully 2023 will bring new methods to reduce waste in a very wasteful field.
Cocokind Resurrection Polypeptide Cream, $27, cocokind.com
Tata Harper Restorative Eye Cream, $110, nordstrom.com
Dr. Karan Lal is a double-board certified adult and pediatric dermatologist and fellowship trained Cosmetic dermatologist. He is currently the Director of Cosmetic Surgery at Affiliated Dermatology in Scottsdale, Arizona.
Dr. Marisa Garshick is a New York-based board-certified dermatologist at MDCS Dermatology. She is also an assistant clinical professor of dermatology at Cornell New York Presbyterian Medical Center.
This article was written by Beauty E-Commerce Writer Tatjana Freund. Freund has interviewed countless leading skincare experts, scientists, and medical professionals.
Advertisement – Continue Reading Below