Weekly poll results: Xiaomi 13 duo looks like a winner
Xiaomi's 2022 ends on a high note – last week's poll shows that the new 13-series flagships are well-liked and each has its fans. The Xiaomi 13 Pro shines with its 1" sensor, something that was available only on special phones like the 12S Ultra before. The Ultra never got a wide release, but the 13 Pro is going global.
Details on that are scarce for now and some people are concerned about the price – we don't know the exact number yet, but based on the 12-series these will be out of reach for some. For those that can afford them, however, the Xiaomi 13 duo are serious contenders.

With other excellent flagships already official (or soon to be), people are eager to see detailed reviews on how the new cameras perform. There were also questions about battery life as the 12-series lacked endurance. The new Snapdragon 8 Gen 2 promises much higher efficiency, so that might prove to be a non-issue.
As for Xiaomi 13 vs. 13 Pro, some liked the smaller vanilla model for its size and for its flat screen. They would have preferred a 1" sensor to match the Pro. Something that both models got knocked for is the continued use of USB 2.0 ports, which lack wired video output.
Others do like the large screen of the Xiaomi 13 Pro and, of course, the more advanced camera setup – not just the IMX989 sensor in the main module, but the 50MP sensor in the telephoto module and the 50MP sensor in the ultra wide too.
As a core part of the Xiaomi experience MIUI was often mentioned in the comments – it is a "love it or hate it" kind of deal and users' feelings towards the OS skin strongly influence their decision on whether to buy the Xiaomi 13 phones.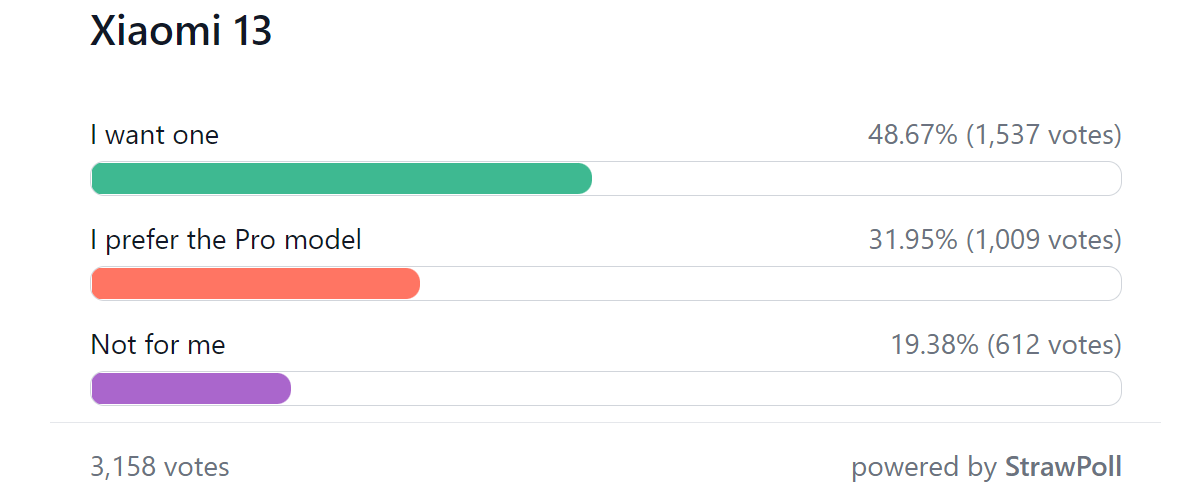 The comments also revealed the strongest rivals of the Xiaomi 13 duo – vivo's X90 phones. The X90 Pro+ also has a 1" sensor and a Snapdragon 8 Gen 2 chip and will go up against the 13 Pro. The vanilla Xiaomi 13 has the vivo X90 as its opponent, though the X90 is larger and uses a different chip, Dimensity 9200, so there is less overlap between those two.
Xiaomi has not announced when the 13-series will roll out internationally. The first order of business seems to be a global launch for the Redmi Note 12 series on January 5, so market expansion for the flagships will probably come some time after that.
We had to wait until March for the Xiaomi 12 series to become available outside of China, so settle in. There is also the open question of the even more powerful Xiaomi 13 Ultra, which may feature gimbal stabilization. That is only a rumor for now.